Features & benefits

This product has the possibility of been installed either on the floor or in the ceiling, all depending on the amount of space which is available. A remote control controls the vertical flow direction of the cooling air, & due to its unique low noise design, it allows for quiet & pleasant cooling.

Less Noise Advantage

As a result from changing to the direct-drive method from the pre-established pulley method of the blower & the motor. The level of the noise inside the product is now considerably less.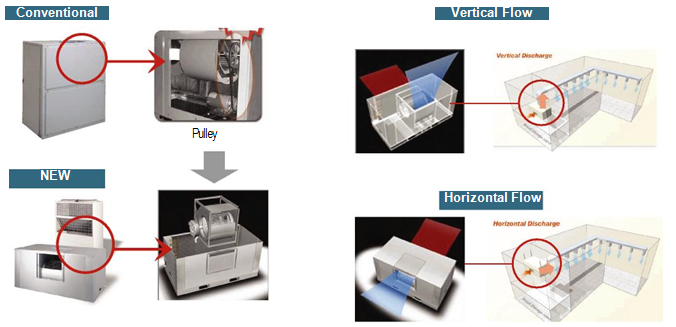 Convenience in Installation (convertible flow)

The air flow can be adjusted to either a vertically or horizontally air direction depending on the characteristics of the space where the product is installed.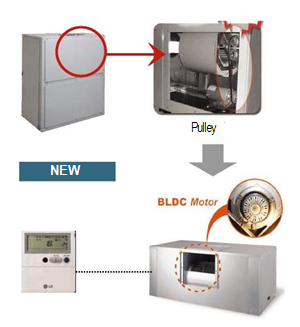 Direct Drive
BLDC fan motor has been installed.
Control of the air volume is achieved by a wired remote controller.
Convenience in Installation (ESP control facilitated)

The air flow rate can always be controlled with the wired remote controller, regardless of the ESP.

High Efficiency

Variable technology is used which allows the device higher efficiency & less noise & can be run with motor-generated electricity.

The installation of the invertible fan motor contributes to high efficiency, low energy intake, fresh air intake & less noise.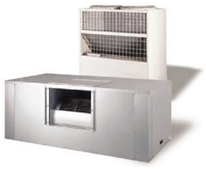 -The compact design, quiet operation & higher cooling capacity makes the condensing units suitable for any outdoor location.
-Light weight air-handlers make it suitable for ceiling application.
-This LG unit is suitable for high static requirements used for light commercial & commercial application.
-All indoor units are equipped with micro-processor controlled wired remote controller.
-Each unit has been tested for pressure & has a holding charge of refrigerant for storage & for shipping.
-The unit is completely assembled, piped & wired in the factory.
-All shipped metal parts are made of commercial grade galvanized steel.
-The indoor & outdoor unit is separately packed & shipped.
-After fabrication, each part is cleaned & coated with baked enamel paint.
-A complete line of high static blower units are available for precise capacity of application.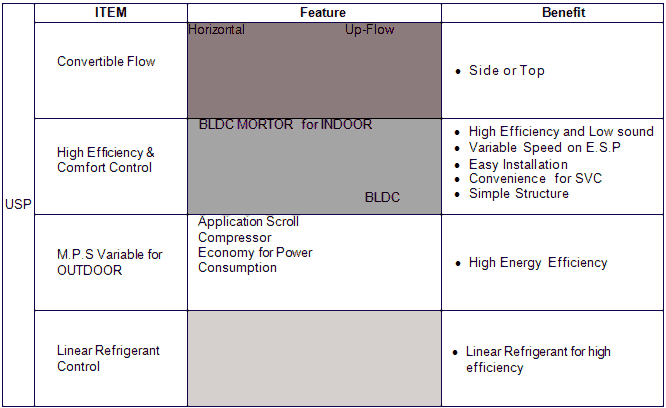 Easy installation
LG Ducted Type units provide many time & money saving features.
With the new micom control there is no more need for time delay relay & anti short cycle timer. Initial cost saving, since the functions of these parts are the main feature of micom control.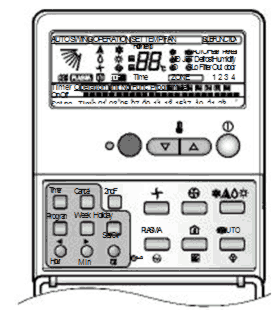 Easy access remote controller


Only 3 wires to the remote controller.
This is another cost & time saving installation feature.
This simplified system makes it easier for the installer to attach.
The wiring of low voltage to the unit and remote controller is easy as brown-brown, red-red, yellow-yellow connections.

Compact & light weight design
Durable, dependable components:

Compact size enables the unit to be located where space is limited.
Waterproof cabinets are treated with powder coated paint & constructed of galvanized steel.(outdoor unit only)
Condenser fin guard is designed for safety against sharp edge of outdoor coil.

Micom Control:

- A large reduction in component failure
- Humidifier can be controlled by micom contro
- Reduces the number of components which operate the unit.
- Cooling mode controlled by Micom control through input signal from indoor & outdoor temperature sensor.
- Anti short cycle timer & time delay relay is now a standard feature with micom control.
- Gradual power supply for fans, compressor and heater by staging through micom control.
-In case of power failure, Micom control remembers the previous running condition before power failure. The unit will start again in previous mode when power re-energized.
.
Tight Top Cover & Cabinet

- The units incorporate two or three layers top cover. The two or three piece layers overlaps in a specific way that water cannot leak into the unit. These overlapped edges are gasketed & sealed to ensure superior water integrity.

Product quality & reliability
More than 1,500 hours of rigorous life testing happens at the factory on all LG Ducted Type units.
All of LG Outdoor units were rigorously rain tested at the factory to ensure water tight integrity.
Every unit under goes full run test to meet the highest of LG standards requirements.
Assurance tests on all units arriving at job sites in the best condition.
Units are shipped around the country to obtain the best packaging test result.
We perform 100% coil leak test at the factory. The indoor coil & outdoor coils are pressure tested to 500psig & leak tested at 200psig respectively.
Before shipping, 5 units are randomly selected & undergo STLT(Short Time Lift Test) for more than 300 hours.
All LG Ducted Type units undergo overload cooling tested (ambient temp is 110°F). In this condition all units operated continuously without any problem.


Basic & Optional Features Cooling & Fan Operation :

- LG Ducted Type air conditioners can provide cooling & fan operation. When the machine is in cooling mode, it cools the air with an operation range of 18-30°C. In the fan operation mode, only the indoor fan at the selected speed will run, outdoor fan & compressor will be off.

Auto Restart Operation :

- When electrical failure occurs to the unit & after resumption of the power, the unit starts in the same mode as prior to the power failure. Memorized condition are on/off condition, set temperature, operating mode (cooling or heating) & fan speed. The unit memorizes these above conditions & always resumes at the memorized settings..

Wired Remote Control:

- The wired remote controls all functions of the unit. Features include check/set temperature, set timer, holiday & also diagnose any error that might occur within the unit. There is also an option of a weekly program.

Group Control:

- One wired remote controller can control up to 16 units at a go. All units will then need to follow the same settings of temperature & other sub function commands.

Child Lock Function:

- Prevents children & others from tampering with the control buttons. Wireless remote controller controls all units. It is easily set by pressing the timer key & Min key simultaneously. After child lock is set, all keys become ineffective, CL will be displayed on the LCD for 3 seconds if any key get pressed.

Weekly Program:

- It provides on/off schedule of operation for a period of one week.

Self Diagnosis Function:

- This function allows for a self diagnosis to be performed on the unit. An error code will be displayed on the LCD wired remote controller & then diagnosis can be done as per the code indication. The same information is also printed on key cover of the LCD wired remote controller.

Time Delay Safety Function:

- The compressor delays restarting by three minutes to preventing any damage to the compressor.

Two Thermistor Control: (Return Air Control)

-Due to varied temperature differences between the installed product & the indoor temperature. Two thermistor controls provide options to control temperatures by referring any of the 2 temperatures. The slide switch at the back of the LCD wired remote controller allows for desired thermistor controlling of the unit. Thermistors are found on the LCD wired remote & the other on the indoor unit. .

Central Control: (Accessory)

- One central room controls the on & off function of all units, 8 controllers are able to control 16 x 8 = 128 units. It is neccessary to access the wired remote controller of each unit for settng temperature, fan speed & other sub functions.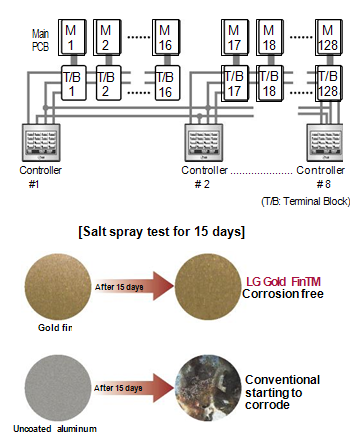 Energy saving gold fin: (Option)

- The fins used for the Outdoor Heat Exchangers are coated with gold colored hydrophilic & anticorrosive layers. It prevents the corrosion of heat exchanger. Fins remain as new even after long time of operation & maintain efficiency of heat exchanger constant. It also saves power & maintenance Cost

Wireless Remote Control: (Accessory)





- User friendly & provides ease of control.

Fire Alarm Function:

- It is possible to purchase & install a fire alarm. Then in a case of any fire, an alarm will sound & the unit will be completely stopped.

EZ Tuning
LG's High Technology provide Easy & Low cost Design of Duct work: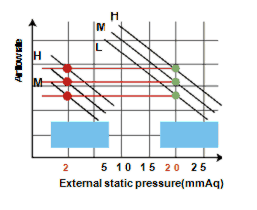 When External Static Pressure (E.S.P..) increases air volume decreases. However by controlling BLDC motor while installing the product E.S.P. is controlled from 0-20 mmAq linearly. EZ Tuning will provide required & constant air volume even if there is a change of E.S.P. Setting of the desired E.S.P. gives required combination of E.S.P. & airflow & can also be set through the LCD wired remote control.