Features
Ceiling Cassette 4-way
Jet cool
Low noise
LCD wired remote controller
High head drain pump(700mm)
Hygienic and easy-to-clean filter
Plasma air purifying system(option)
High-ceiling corresponding operation
Compact design and easy installation
Wireless remote controller(accessory)
2-thermistor(unit body and remote controller)


Compact design & easy installation (For TH Chassis)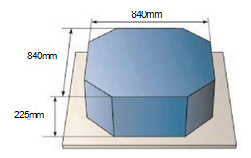 Of the ceiling space only around 225mm is sufficient for installation space.
A smaller size than a textile(840mm x 840mm) is very convenient for installation.


Low noise with 3-dimensional turbo fan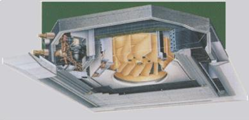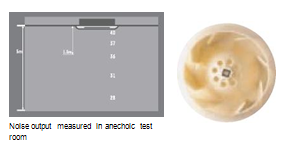 The Ceiling Cassette has been designed with the most advanced low-noise system.
The addition of the turbo-fan & round type heat exchanger provides for the quietest operation.


Hygienic & easy to clean filter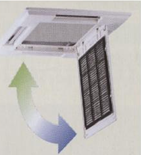 Designed with a washable filter.
The grille is easy to open & access the filter for cleaning.



Plasma air purifying system

Dust free!
Odor free!
Anti-allergy !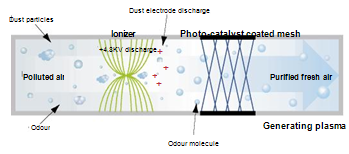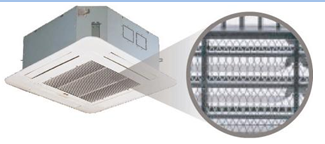 The PLASMA air purifying function developed uniquely by LG removes all microscopic contaminants & dust, together with house mites, pet fur & pollen. All which aids in the prevention of allergic reactions like asthma & hay-fever . With a filter that can be used over and over again by simply washing with water, you can enjoy clean fresh air.


High head drain pump(700mm)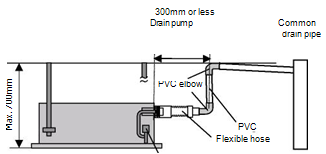 Water is automatically drained out through a built-in drain pump.
The possibility for a 700mm standard drain-head height is available, which will provide for an ideal solution for perfect water drainage.


High-ceiling corresponding operation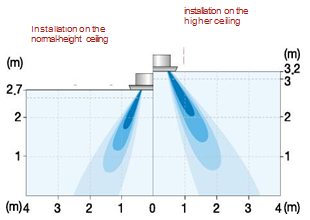 Depending on the height of the installation, it provides variability of the indoor fan motor rpm. If the height of the installation is high you can adjust high rpm of indoor fan motor. On the other hand if the height of installation is low then you can adjust low rpm of indoor fan motor. To select different speeds use the slide switch at the back of the LCD wired remote controller.

Control group
Operation summary
One specific control device can control a specific number of products, when multiple products are linked.
Specific operation
A connecting line can be linked to each of the indoor equipments for communication. A specific control device is then connected to each of them & this control device will be able to control the same function.
Group control functions are enabled by cutting an optional jump wire in the wired remote controller. When this is the case the main system will not respond in order to prevent data collision.
While executing group control command, use the random data(0-3minutes) in the main body of indoor equipment for limiting starting current.
Up to 16 indoor equipments can be controled by a control device.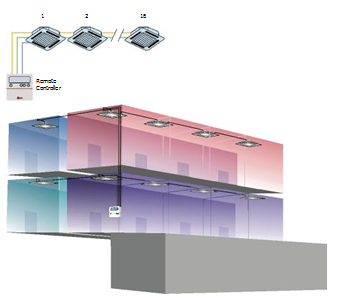 .

Zero power consumption in standby mode by adopting SMPS (Switching mode power supply)

Power waste due to standby mode
Even though the appliance is turned off but the plug is connected to the outlet, power will still be wasted.
Development of super power-saving SMPS (Switching Mode Power Supply)
Zero standby power by reducing 90% of standby power.
It is not neccesary to pull out every plug when system is not in use.